Google
Current tag: Kali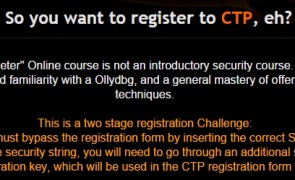 Overview I had been wanting to take the Cracking The Perimeter (CTP) course for some time but my schedule was pretty hectic. I finally forced myself to start it at the beginning of the new year and I'm really glad I did. As promised, here is my review… Prerequisites Offsec states the following: Many pre-requisites are required, such as good familiarity with a Ollydbg, and a general mastery of offensive network security techniques. Definitely sound advice….
Read more...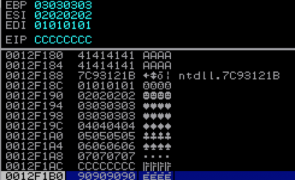 Overview In Parts 2 and 3, we built and improved upon an exploit for ASX To MP3 converter. Even though it had it's flaws, as far as exploits go, it was pretty straightforward — direct EIP overwrite with a jump directly to a register that pointed to our shellcode. Things aren't always that easy. Quite often you have to do a bit more work to get the application to execute…
Read more...

Overview Recently I took the Offensive Security Penetration Testing with Backtrack (PWB) course, passed the exam, and achieved the OSCP certification. I learned a ton and earned my most rewarding cert yet. There are several great reviews of the course but I figured I'd provide my perspective. Motivations In my current job I'm lucky enough to touch on all aspects of information security from policy and process development to application…
Read more...
In category:
Training/Certifications
Tags:
Backtrack
,
class
,
course
,
enumeration
,
Kali
,
Offensive Security
,
Offsec
,
OSCP
,
pen testing
,
penetration testing
,
pentest
,
privilege escalation
,
PWB